SPRING 2020 Course Dates:
4 Weekends: April 18 & 19, May 9 & 10, May 30 & 31, June 27 & 28
Course Fees and Policies:
Tuition: $1195 (Includes all study materials stated above)
$225 non-refundable deposit due by April 10, 2020. Registration ends Friday, April 10, 2020
REFER A FRIEND and receive $250 discount/refund when they enroll by April 10th, 2020.
Cash (in person only) Credit Card, Money Order, Check and Paypal accepted.
Participants must attend ALL sessions in order to take the exam and receive the certification,
Refunds: $225 deposit is not refundable. After the first weekend a refund of $500 will be available and may be applied to any other of my course/class offerings from July 1, 2020 to July 1, 2021. Sorry, no refunds from second weekend through end of course.
Ready to Register for our
Consulting Hypnotist Certification Course?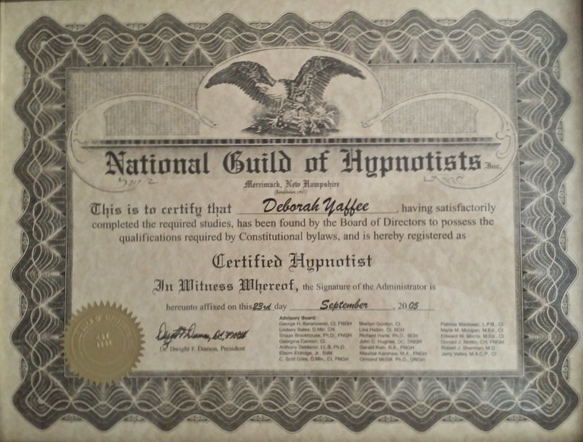 To secure your spot in the SPRING 2020 Class,
Complete Registration Form
& Participant Questionnaire and
Send by SNAIL MAIL
with your Deposit or Payment in Full...
Questions? Contact your Instructor,
Deborah Yaffee:
deborahyaffee@gmail.com
413-625-2800